Six Things to Expect from Your Home Inspection
Photo: © Spiderstock - iStockphoto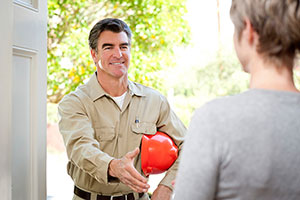 Home inspections aren't just for first-time home buyers and those purchasing foreclosures—really, everyone should know what to expect from their new home before they sign on the dotted line. Hiring a home inspector gives buyers confidence. Fortunately for buyers, qualified real estate agents are connected with professional home inspectors. Most home inspections are full of teachable moments that can help homeowners prioritize their routine home-maintenance dollars. Here are six things you can expect from your home inspection.
1. Inspector References
Your home inspector should be up front with you about how long he or she has been in the business. Even if someone you trust recommends a home inspector, you should ask for a list of references that can further confirm the inspector's quality.
2. A Standard Cost for the Report
Your home-inspection report should cost between $300 and $500. If the price is significantly higher or lower, look into possible reasons why. For example, the home inspector may be new to the business and pricing his or her services low to build a client base.
3. Attending the Inspection
Your inspector should encourage you to attend the inspection. Throughout the process, a quality inspector will explain and discuss each finding to potential buyers so that there are no surprises when the final report arrives. A long list of unexpected concerns can be off-putting, so make sure your inspector is willing to teach while inspecting.
4. A Thorough Job Takes Time
You should expect the inspection to take about two or three hours. You should not choose an inspector who plans to rush through the job.
5. Quality Recommendations
Many home inspectors can help buyers get started on necessary repairs. Most home inspectors were once contractors and many are still networked with reputable companies. With quality contractor recommendations, home buyers will know where to begin if a repair is imminent. Home inspectors may even be able to provide ballpark estimates on repair costs.
6. A Quick Turnaround of the Report
Buyers can expect a report to be returned to them within a day or two. Digital photography and other technologies have made the wait time much shorter.